Parental Engagement, Communication and Feedback
Parents & Carers

Parental Engagement, Communication and Feedback
Parental engagement has a large and positive effect on children's learning.
Parental support, communication and feedback is extremely important to everyone at Park Way.  As a school, we are keen to work closely with all parents and carers to continually improve the ways in which we communicate.
If you would like to discuss any element of your child's schooling, in the first instance please speak to their class teacher who will know them best.  The following diagram shows the lines of communication across the school: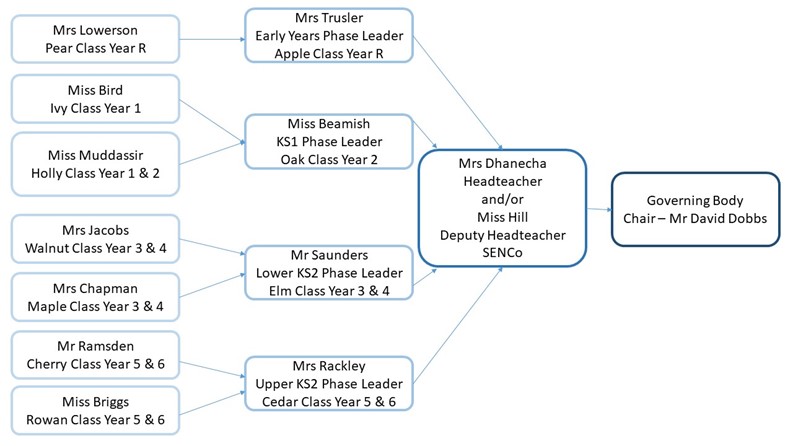 You can also speak to our pastoral team - Karen Abrahams (Attendance and Welfare Officer)
Currently, we communicate with parents and carers via:
e-mail from the school office or individual members of staff.
text message from the school office.
school website.
weekly newsletters, emailed direct to parents and published on the website.
class noticeboards outside of each classroom.
school noticeboards in the school reception and by the main gate.
letters in the main school reception (we no longer routinely send home paper copies of all correspondence; however if you would prefer paper copies, please let the school office know.).
written letters through the post.
coffee mornings on the first Friday of every month.
certificates presented to children and postcards home.
parent consultation meetings.
If you are not receiving electronic communications from the school, please ensure we have your correct mobile number and email address on file.
Parents and carers are welcome to contact the school via:
personal visits to the school office.
pre-arranged appointments with members of staff.
the Contact Us page on the school website.
letters.
e-mail to the school office, for the attention of a named member of staff if appropriate.
pastoral staff (Katie Smith, FLO).
suggestion box at the back of the school hall.
Parent View
Parent View is operated by the School Inspectorate OFSTED and can be completed by any parent at any point during the school year. Once you have registered you can update your responses and it will overwrite previous responses from you. Parent View asks for your opinion on 12 aspects of Park Way. The results are anonymous so it's not possible for us to deal with individual issues raised through this means. If you do have something you are particularly pleased about, or something you wish to raise please let us know directly so that we can make Park Way the very best it can be!
Click on the image below to visit the website:
At Park Way Primary School, we give parents lots of opportunities to tell us what we are doing well, as well as what could be improved.  Surveys are completed regularly by parents and children.
If you have any further suggestions of ways in which parents / carers and the school can work together for the good of all children, please let us know.